Twas the weekend after Halloween and all through the Queen City,
not a creature was bored (outside of the ghosts and goblins -what a pity)…
The bar and nightclub owners, party promoters, and theatre companies too,
were working hard to make certain there was plenty to do.
So my friends with their costumes removed, and I, in my newly purchased harness,
all got ready for the Visit Gay Charlotte Featured Weekend Agenda to harvest…
ok – you get the idea, so without further adieu:
[two_third]
Friday, November 2
The weekend starts off with a bang (or should I say a grrrrr?) with the opportunity for you to meet the boys of both the Charlotte Royals  and Nashvilee Grizzles at Rugby Meet and Greet at Hartigans!  Come mix and mingle with both teams and get pumped for tomorrow's match!
Now that Halloween is over there is but one thing on your mind, right?  No not that thing – I mean the election!    The minds (and Bodies) behind Sugawalls Entertainment, Elite Rainbow Entertainment and Men of Destini Productions (which brings us back to the "bodies" part of this sentence) are ready to grab that donkey and elephant by the tail with their "FORWARD": The Four More Years Party at Marigny Dance Club.  Come out with OBAMA paraphernalia while you party and receive discounted entry!
Did you miss last night's grand opening performance of the Must See Charlotte theatrical production?  You're in luck, as Bent will be playing between now and November 17th.  Do yourself a favor and see the show that everyone is already talking about!
Following the theme of important events, Tonight at the Nickel Bar is an awareness party that all should note and attend:  The Pre-Party for the 50 Studz to Mammogram!  Hosted by Comedian Niecy and DJ Spinn from The MYXX the event will help raise awareness for both the screening to happen on Saturday as well as Breast Cancer.
While the event is billed as Ladies Take Over – we're sure that all men should be in attendance to show support for the women of the community!  If however, gentlemen, after you've paid your support to the Ladies and want to slip away to a more guys-only affair – then get yourself to Meltdown Production's Fusion 1st Friday event – The Scorpio Party at Allure. Special Guest SoSo Def Records DJ AVI-X will be keeping the floor hot with R&B-HipHop all night long!
The evening is not yet over as there is still more tricks up our sleeves (is that where we left them?!)  and this is no better demonstrated than through not one, not two, but three appearances of magic and theatre of Hannibal in Three Acts at Petra's
Finally -Sophisticated Lyfe offers up Thanks for Giving – the Phi Nu Kappa Probate at Wine-up. If you ever wanted to know about LGBT Greek lyfe come out & let them know you're interested!  The event also kicks-off their annual food drive, so bring canned food & dry goods to help feed families & individuals for Thanksgiving. [/two_third] [one_third_last] Friday Quick view
Metrolina Expo Marketplace – Fall Extravaganza International Collectibles and Antique Show
Pre-Party: 50 Studz to Mammogram
BENT
Halloween Party at the Lake
Meet and Greet the Charlotte Royals and Nashville Grizzlies
Sylvia
FaBuLoUs Fridays
Hannibal at Petra's Piano Bar
Thanks For Giving ~ LGBT 1st FRIDAY'S… PHI NU KAPPA PROBATE
'FORWARD' – The Four More Years Party
Fusion 1st Friday
[/one_third_last]
[divider_hidden]
[two_third]
Saturday, November 3
The day kicks-off with two events that had warm-ups on Friday!  First is the 50 Studz to Mammogram event where women 40 and over are eligible for a free breast and clinical examination.
Up next is the Charlotte Royals versus the Nashville Grizzles.  It's the Queen City versus the Music City! Will crowns be tipped with Nashville's loud speaker or will Charlotte conquer the Grizzlies? To find out come out to the match! Afterwards make sure you head to Sidelines Sports Bar for the match's Third Half party!
Tonight is also the third annual Evening of Hope and Inspiration at the McGlohon Theatre. This event raises money for the Jeanne White Ginder Food Pantry, which assists clients at Rosedale and around the community, infected with the HIV virus, with emergency food assistance. Through this event, Rosedale ID strives to link their message of compassionate care and understanding to faith and inspiration through prayer, music, and fellowship. This year the event welcomes Jeanne White herself, musical styling of Christy Sutherland and Lynda Randle.
Giving you a taste of what is coming up next week, Cathode Azure hosts their Madonna MDNA Official Pre-Party! Enter a chance to win a pair of Madonna MDNA Tour "Golden Triangle Pit" tickets and other promotional giveaways. Featuring Atlanta's Top Billboard DJ, the fantastic DJ Mike Pope!
Speaking of women who get us hot – there ain't nothing like the ladies of Big Mamma's House of Burlesque, and there ain't nothing like them performing Three Panty Opera at Petra's!   This little burlesque show consists of some of our favorite performers from their big shows, showing off their favorite acts on the small stage.  You can sit at your table right next to the stage and enjoy their crazy antics while sipping cocktails.
And on the note of burlesque – one of Visit Gay Charlotte's co-founder's favorite events is tonight:  Tradesmen at the Wood Shed, a sort of a Burley-esque for the men into Leather, Uniforms and Fetish wear (and their admirers!)
Finally on Saturday is The Scorpio Bash at The Nickel Bar! Scorpio's get in free before 11:30; Drink Specials all Night; and Hip Hop and R&B by DJ Jazzy B!
[/two_third][one_third_last] Saturday Quick view
Metrolina Expo Marketplace 
50 Studz to Mammogram
Charlotte Royals vs Nashville Grizzlies
Royals vs Grizzlies – Third Half!
Tradesmen (Woodshed)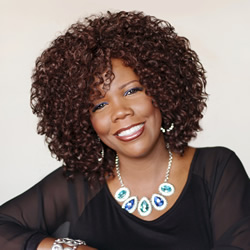 3rd Annual Evening of Hope and Inspiration
Madonna MDNA Official Pre-Party
BENT
Sylvia
Scorpio Bash at Nickel Bar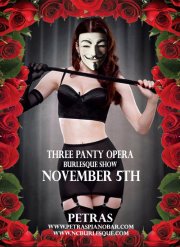 Three Panty Opera Burlesque Cabaret
[/one_third_last]
[divider_hidden]
[two_third] Sunday, November 4
Charlotte keeps it going on Sunday.
First, if you have still a yearning desire after going to Tradesmen last night for more regular guys who can wet your whistle – then get yourself back to The Wood Shed for their weekly 301 Club event.  Jeans, brews, and bears – always a good combination!
Now if you've been too busy all weekend to catch it before, make certain you catch BENT tonight – yes, it is playing for two more weeks – but this is the show you'll want to see more than once!
Finally, Sunday is no child's play.  Some take this day and their calling seriously.  This is certainly the case for the last main event of the weekend:  The Sunday Drag Throwdown at The Nickel Bar!  Performances by Veronica Iman Davis, Monie T Tyson, Nesha St James, and hosted by Brianna La'Shawn Davis[/two_third] [one_third_last] Sunday Quick view
Metrolina Expo Marketplace 
Sylvia
BENT
The 301 Club
Sunday Drag Throwdown
[/one_third_last]
[divider]
Want More?
Remember this is only the Featured agenda – make certain to check the Visit Gay Charlotte Event Calendar.  Our lgbtCLT agenda is the most comprehensive in the city!
Is your event/bar night listed?
Why not?  It's easy to list and it's always free. Our calendar provides maps, and links to Facebook, Twitter and most calendars.  Give it a try!